Chevrolet's Camaro Red Flash Show Car at 2010 SEMA in GM's booth

a show car put together for the SEMA show to extend the Camaros look and its sound to a new level. Red Flash combines Chevrolet Accessory parts available today with some specially designed new concepts from the design studio, resulting in a unique new Camaro statement.
2011 CHEVROLET CAMARO RED FLASH SHOW CAR
The design of the all-new Chevrolet Camaro has been acclaimed by critics and celebrated by sports car buyers. With that appeal as a springboard, Chevrolet designers created the Red Flash Camaro SS Show Car to extend Camaro's look – and even its sound – to a new level.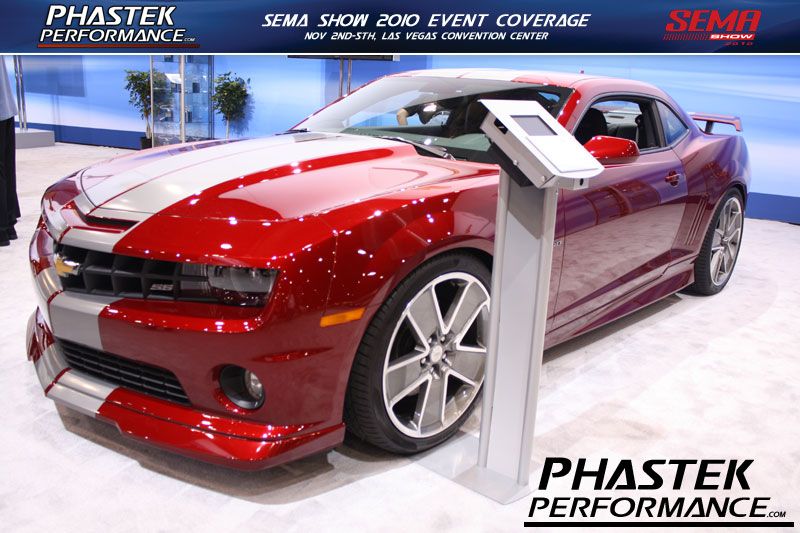 Red Flash combines Chevrolet Accessory parts available today with some specially designed new concepts from the design studio, resulting in a unique new Camaro statement. Its Red Jewel exterior color is accented with gray heritage stripes and gray-accented 21-inch wheels. Under the hood, a Chevrolet Accessory air intake kit and, out back, the accessory exhaust kit, enhance the car's performance, style and sound.
"The Camaro Red Flash is the opposite of a 'sleeper' on the street," said Adam Barry, lead designer. "From every angle, it looks and sounds like the high-performance sports car it is. It's a model for the enthusiast who doesn't want to hide his performance aspirations."
It also wears Chevrolet Accessory body-color ground effects, high-wing rear spoiler with black-painted stanchions and other gray accents. A lowered suspension lends a more aggressive stance.
Inside, the Red Jewel features an Ebony leather-trimmed cabin with titanium stitching and red accents on the seats. There's also a custom steering wheel, racing-style pedals and red LED lighting for the door trim.
VEHICLE HIGHLIGHTS
Exterior:
* Red Jewel color
* Heritage hood stripes in gray
* Chevrolet Accessory high-wing rear spoiler (body color with black stanchions)
* Chevrolet Accessory ground effects (body color)
* Chevrolet Accessory 21-inch wheels with gray inserts
* Camaro badges with chrome edges and gray inserts
* Body-color antenna
Interior:
* Ebony leather with titanium stitching and red accents on the seats
* Prototype Chevrolet Accessory racing-style steering wheel with flat bottom
* Red LED lighting in door trim
* Red footwell and cupholder lighting
* Chevrolet Accessory racing pedal kit
* Chevrolet Accessory floor mats and cargo mat
Performance:
* LS3 6.2L V-8 with Tremec TR6060 six-speed manual transmission
* Chevrolet Accessory air intake and exhaust systems
* Chevrolet Accessory engine cover in Red Jewel
* Chevrolet Accessory Hurst shifter with custom stone-color stitching on the boot and shift knob