BMR Front Radius Rod Suspension Bushing Kit, Red
2010-2015 Camaro
Product SKU:
BMR-CAM-BK019
Item Shipping:
FREE Shipping
Availability:

Order Now Ships in 1-3 Days
Frequently bought together:
Description
2010-2015 Camaro BMR Suspension Polyurethane Bushing Kit for Front Radius Rod #BK019
BMR radius rod bushings minimize radius rod deflection maintaining consistent caster during aggressive handling maneuvers.
The exclusive 3-piece "dual-durometer" design uses a high 88 durometer center bushing to reduce caster change and a softer 70 durometer thrust surface that allows proper articulation for bind-free movement.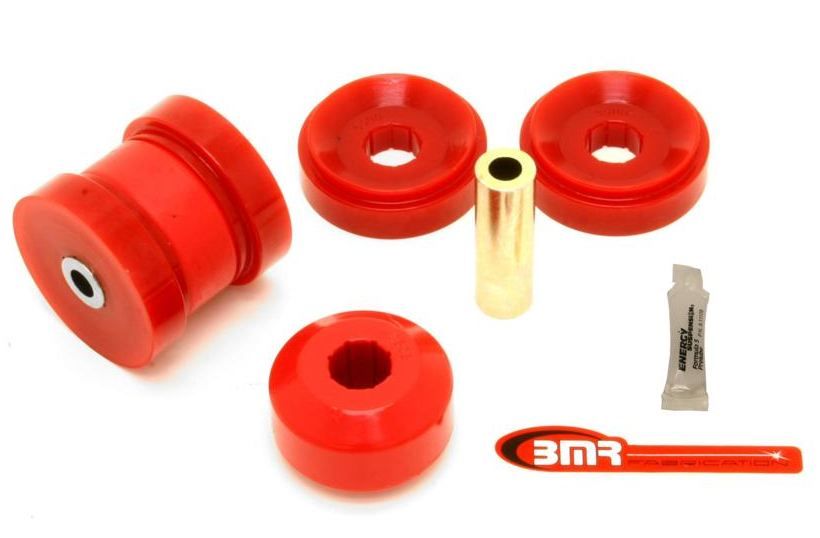 BMR Front Radius Rod Bushings #BK019 for 2010-2011 Camaro Installation Instructions:
Click here to view these Installation Instructions in a PDF file
View All
Close
Warranty Information
BMR product applications are warranted to be free from defects in material and workmanship under normal use and service for a period of (2) two years from the date of sale to the original purchaser. Obligation under this warranty is limited to product replacement but not the reinstallation of the replacement product or other incidental costs. This warranty does not cover any product that has been subject to misuse, neglect, alteration, accident, or improper installation. Normal wear shall not be considered a defect under this warranty. All warranty adjustments are limited to replacement or credit of returned merchandise. This warranty specifically excludes impact damage or damage to powdercoat. BMR will issue a Returned Material Authorization number for every return. Returned goods will not be accepted without an RMA Number. BMR will ship the replacement product at no charge using UPS Ground. If the customer would like to upgrade the shipping method (for example, Next Day Air), the customer will be charged the difference in shipping cost. BMR product is designed to be used with OEM product and other BMR products. BMR does not warranty our product for fitment with aftermarket product from other manufacturers. This applies to suspension products from other manufacturers as well as aftermarket exhaust products, aftermarket drivetrain products, and other aftermarket products. BMR products that are returned due to fitment issues with OEM components or BMR product will receive a full refund. BMR products that are returned due to fitment issues with aftermarket product will be subject to a 15% restocking fee. Purchaser understands and recognizes that racing parts, equipment and services by or manufactured and/or sold by BMR, are subject to varied conditions due to the manner in which they are to be installed and used. The acceptability and suitability of any part sold or manufactured by BMR for a particular application is solely the purchaser's decision. BMR makes no warranties whatsoever, expressed, implied or written, THERE IS NO WARRANTY OF MERCHANTABILITY. The right to make changes in the design or add to or improve on their product without incurring any obligation to install the same on products previously manufactured is expressly reserved. Buyer agrees to indemnify and hold Seller harmless from any claim, action or demand arising out of or incident to Buyer's installation or use of products purchased from BMR.
View All
Close
Customer Reviews
Customer Reviews
WARNING California Residents - cancer (and/or reproductive harm) -
www.P65Warnings.ca.gov