Phastek X5 Camaro with the Turbonetics Turbo Kit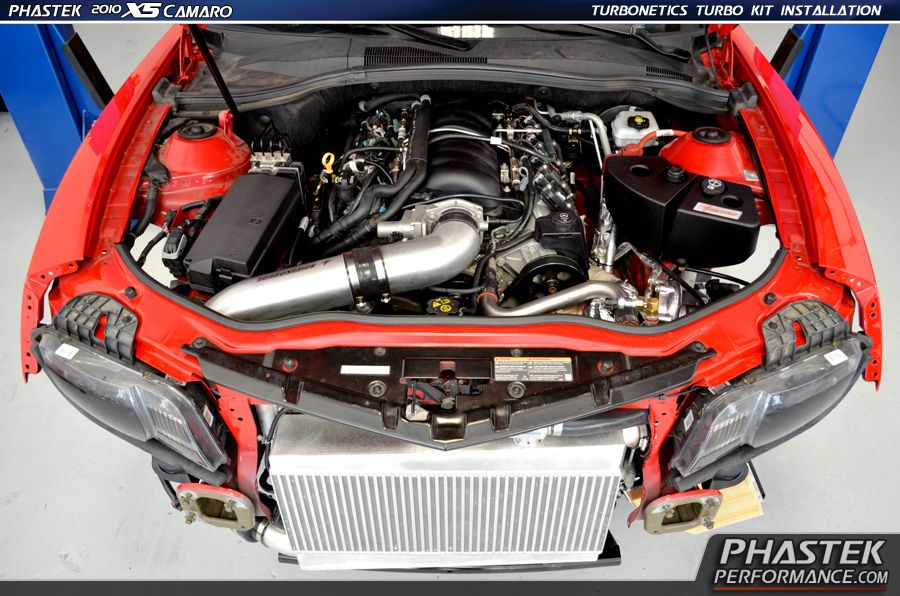 Turbonetics 2010+ Camaro SS bolt on Turbocharger system:




Turbonetics Turbocharger Kit for 2010-2011 Camaros - 2010 SEMA Show


---
Preparing Your LS3 For Surviving Boost

Question: Can the LS3 engine, one of GM's newest offerings in it's LS family of performance engines and certainly one of its strongest, stand up to the challenge that boost presents? To find out, LSXTV.com spoke with some of the leading engine builders in the country to find out just how tough the LS3 is, and what sort of upgrades are necessary to keep the engine together when aiming for horsepower levels ranging from 500 to an insane 800 horsepower.


The Stock LS3 Engine, 426 Horsepower:

In 2008, GM introduced the new 6.2–liter LS3 engine in the Chevrolet Corvette, with its whopping SAE-rated 436 naturally-aspirated horses and 428 ft. lbs of torque. The LS3 was the latest addition to the LSX family of GM high performance V8 engines, and benefited from the knowledge gathered over the years from its predecessors. Strengthening of the block and reducing the rotating masses were important ingredients in the redesign of the block. The LS3 block casting is shared with the 6.2-liter block that powers the LSA and LS9 supercharged applications. It features cast-in iron cylinder sleeves, however. The bulkhead accommodates six-bolt, cross-bolted main bearing caps that work to limit crank flex, that, in addition to a structural oil pan, stiffens the overall structure of the engine. The LS3 engine is built around a strong cast aluminum block with 6-bolt main caps and internal components with performance and the enthusiast in mind. It features a strong nodular iron crankshaft, with powdered metal forged connecting rods, and hypereutectic aluminum pistons.


Getting Boosted:

Turbocharger and supercharger kits are probably the most common method of achieving substantial horsepower gains with the LS-based engines because all of the structural improvements that GM incorporated into the design of the LS3 engine, from the block itself to the rotating and moving components, so it seems they are practically asking you to dive in and push the limits in search for those extra ponies. If you're wondering whether the LS3 block can hold up to the rigors of boost, one needs only to look to GM's own LSA supercharged 6.2 liter V8 – found most commonly in the ZL1 Camaro and Cadillac CTS-V.


Bolt-On Forced Induction: 600 Horsepower:

Reaching the 600 horsepower mark with an LS3 is easy in the "real world" scenario for most hobbyists. Roughly 5 to 9-pounds of boost from a supercharger or turbocharger application is needed, which is considered a pretty tame level of boost to push through the stock LS3 engine.

At or around 600 horsepower with a boosted LS3, you won't be stretching the limits of the internal components or the block. The stock GM crankshaft will handle boost like a champ.


700 Horsepower (~600 rear wheel horsepower):

Some engine upgrades are recommended once you exceed the 600-650 rear-wheel horsepower mark. These upgrades include cylinder head bolts/head studs, along with main stud bolts.


800 Horsepower with Engine Upgrades (~700 RWHP):

800+ horsepower at the engine will require between 11- and 15-pounds of boost depending upon your combination, which begins to stress some of the engine's internal components. At this level, you will need to change out much of your rotating assembly and cylinder head components. One of the big mistakes that's commonly made when shooting for big horsepower with a boosted LS3 is putting in a large duration camshaft. The stock camshaft is a pretty good fit for a boosted LS3 application and should just be better left alone. However, you'll want to upgrade to a stronger set of valve springs to cope with the additional boost and eradicate valve float. Also, toss the stock hollow-stem exhaust valves, as they are too weak to survive the psi produced at these horsepower levels. Opt for stronger Inconel valves or even solid stem valves. The exhaust valves in the LS3 are pretty crummy For Connecting Rods, we recommend stepping up to a set of steel, forged rods from reputable manufacturers such as Wiseco, or the H-Beam's from Carillo. Aluminum rods are only suggested for use in full-on LS3 race motors.

The stock crankshaft, even at 800 horsepower, is still very much a reliable piece when mated with strong and durable hardware including aftermarket main bearings and main studs from a well-known brand such as ARP. The same should be considered for the cylinder head bolts.


900+ Horsepower with Fully Built Engines:

When aiming for the 900+ horsepower range, the stock crankshaft needs to be swapped out in favor of an aftermarket 4.00-inch crankshaft to create a larger cubic inch stroker engine. The steel crankshaft from the GM LSA engine that powers the Cadillac CTS-V and Camaro ZL1 is an option that offers some additional strength over the stock LS3 crank. The LS3 engine comes with steel head gaskets that engine builders have pushed well beyond 800 horsepower. However, The cometic head gaskets that are utilized in the LSA engine are a great upgrade option. As far as oil pumps go, the factory LSA unit, which is the largest volume pump that GM produces, will work great on your high horsepower, forced induction LS3.


Twin Turbo or Single Turbo, which one is better for you?

- Correctly sized twin turbos spool up a little bit faster than a correctly sized single turbo setup. A single turbo, however, is a little bit more efficient than two smaller turbos, resulting in more top horsepower

In practice, the choice between twin turbos or a single turbo often times comes down to:
- Size: Two smaller turbos are often times easier to integrate into an already crowded engine bay.
- Cost: Usually, one larger turbo is cheaper than two smaller turbos.