EBC Brakes Bluestuff NDX Rear Brake Pads, Super-Street/Trackday Use
2016-2022 Camaro SS Non-1LE
Product SKU:
EBC-CAM-DP53023NDX
Item Shipping:
FREE Shipping
Availability:

In-Stock
Frequently bought together:
Description
EBC Brakes Bluestuff NDX Rear Brake Pads, Super-Street/Trackday Use
*Fits: 2016-2021 Camaro SS Non-1LE

Bluestuff NDX is a high friction sport and race material brake pad that is road safe and the perfect choice for performance vehicles driven hard on the road or track days. It is an entry level trackday and race pad that has good street manners and is R90 approved (Europe) for street driving. Due to Bluestuff having excellent cold friction and control, this 0.52 Mu compound pad has quickly has also become the brake pad of choice for performance road car drivers in the USA and Asia. Bluestuff boasts a similar friction profile to EBC's Yellowstuff ads, but with a usefully higher friction coefficient across the now larger working range. Bluestuff has the added benefit of much faster bed in time has a high friction coefficient without feeling grabby, taking things up a notch by bringing superb pedal modulation to a track pad with even greater fade resistance.
Features:
High Friction 0.52 Mu Rear Brake Pad for Improved Braking and Better Performance
Suitable for Trackday and Fast Street Use
Quick Bed-In/Break-In Time for Easier and Faster Use on Track

Quiet and Smooth Braking Under All Conditions

Fully Shimmed Slotted and Chamfered Construction
Excellent Cold Bite Coupled with High-Temperature Fade Resistance
Progressive Braking with Unparalleled Pedal Feel
Drastically Reduced Stopping Distances Compared to OE
ECE R 90 Type Approved for EU Street Driving
Approved for Street Driving is USA and Asia
Sold as a Set of 2
Performance
The reason EBC draws users' attention to the words Trackday (also known in the USA as lapping) is because of this material's fantastic ability to bed in quickly. Weekend fit and go drivers do not want to spend their laps bedding in brake pads. Yet when used on more serious race track drivers this material delights and up to rotor temps of 550C /1030 F Bluestuff is the way to go. This material has been used by numerous spec series cup car racing groups in Europe. The NDX pad material is bonded to the steel backing plates using the patented NUCAP NRS hook system which raises shear and bond strength by a factor of five and prevents pad to plate separation. The pads are then baked and ground and feature high-volume Vee grooves to catch the larger amount of debris from track use.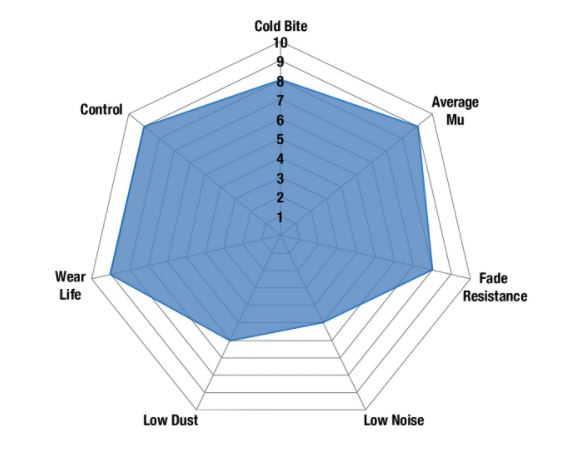 Target use is all types of fast and heavier cars in performance and race driving with a much enhanced lifetime over our previous Yellowstuff grade pads.
R&D Manager Steve Payne checks out the first batch of the Bluestuff NDX material made with a revolutionary process to produce the highly acclaimed EBC Bluestuff NDX Race Pads. The process involves 5 steps never before used in friction materials and sets EBC Brakes firmly in the lead as a provider of brake friction.
EBC's track and race materials are exceptionally kind on brake discs, making them especially desirable for modern performance cars that feature complex and hugely expensive 2-piece brake disc systems from the factory. Customers report that EBC track and race pads are far kinder to brake discs than comparable granite-like semi-metallic pads.

EBC Bluestuff should be used at both front and rear for optimum balanced brake performance.
Click here
to view the Bluestuff Front Brake Pads.



Notes:
*ALWAYS inspect pads every 30 laps and discard when friction material is down to one eighth of an inch or 3mm to avoid fade. In street use the lifetime is considerable – 20,000 miles and upwards can be expected, even when driving hard.
*When using a street car brake system for racing, the mere insertion of a race formula pad does not transform your car into a track beast. Some cooling ducts often need to be added to give the brake system and pads a chance to survive race use.

Bed-In Procedure (opens in new tab):
Click
HERE
Warranty Information (opens in new tab):
Click
HERE
Part Number:
DP53023NDX
View All
Close
Customer Reviews
Customer Reviews
WARNING California Residents - cancer (and/or reproductive harm) -
www.P65Warnings.ca.gov