EBC Brakes Redstuff Ceramic Front Brake Pads, Performance Street Use
2010-2015 Camaro V6
Product SKU:
EBC-CAM-DP32014C
Item Shipping:
FREE Shipping
Availability:

In-Stock
Frequently bought together:
Description
EBC Brakes Redstuff Ceramic Front Brake Pads, Performance Street Use
*Fits: 2010-2015 Camaro V6
As EBC's flagship street brake pad material for prestige and faster cars, EBC Redstuff ceramic Brake pads sets new standards in brake performance. Redstuff ceramic brake pads have always been known for its low dust ability but the latest blend has greatly reduced the phenomenon of pad "pick up" or disc scoring and reduced dust even further. Tested at the UK Motor Industries Research Association (MIRA), tests showed Redstuff reduced car stopping distance in tests by almost 50 feet from 100 MPH offering a staggering 30% brake improvement (front and rear).
Features:
High Friction Formula with 15% Front Brake Improvement

Capable of Repeated Heavy Brake Use without Brake "Fall-Off"
Very Minimal Disc/Rotor Damage Characteristics
Superb Aramid Fiber Material
ECE R 90 Type Approved
Red "Brake In" Surface Coating for Instant Safe Braking After Install
Sold as a Set of 2
Performance
High Performance lowest dust rating pads for Prestige imports and faster street driving. There are two reasons our customers love Redstuff, First because they are the lowest dust pad we have encountered by reducing dust by 60-90%. Plus the minimal dust you see is very easily removed with a simple sponge wash as it contains no steel fiber particles as in all other pads. Second they brake like an alligator right from cold (as good as Original pads or better) and just get better as they heat up. This material is a aramid fiber based brake compound enhanced with ceramic particles. If you have previously tried EBC redstuff (pre-ceramic compound) this material is light years ahead. It lasts longer, it brakes better and is quieter.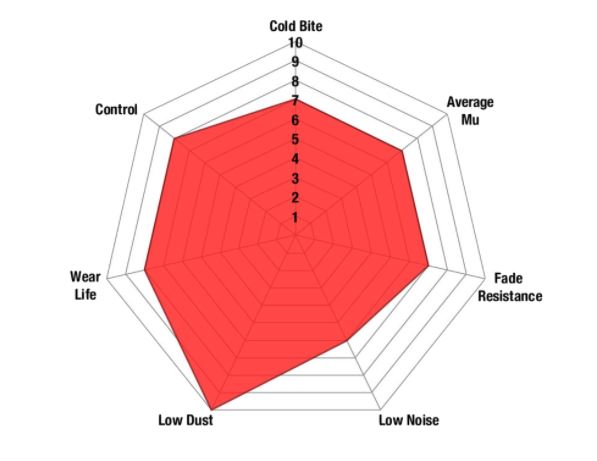 Technical Info
Being a hard wearing pad, bed-in times can be as long as 1000 miles and drivers must be patient until the pad takes up the shape of their disc (brake rotor). This is a truly impressive fast road pad for repeated heavy braking. It emits far less dust than semi-metallic pads and has been proven to stop a passenger car/sedan/sport compact/hot hatch 13 meters quicker than OEM pads from 100mph/160kph. Features EBC Brake-In surface coating which conditions rotor surface and accelerates pad bed-in. Nominal friction coefficient 0.5 with approx. 50% dust reduction. Most EBC Red Ceramic pads are approved to ECE R90 brake safety regulation.
EBC Redstuff should be used at both front and rear for optimum balanced brake performance.
Click here
to view the Redstuff Rear Brake Pads.
Note:
EBC Redstuff is NOT recommended for track use and self-beds during the first 100-150 miles of street driving. With new pads, drive cautiously for the first 300-400 miles during which time dust will reduce and the pads will feel better and better. During the break in process,
the odd "chirp" of brake noise may be heard when starting from cold in damp and cold conditions at walking pace speed. This noise is normal and will quickly fade.
Warranty Information (opens in new tab):
Click
HERE

Part Number:
DP32014C
View All
Close
WARNING California Residents - cancer (and/or reproductive harm) -
www.P65Warnings.ca.gov